OPUS® GMP Manufacturing Process
大規模GMP製造向け、OPUS®2.5 - 80Rカラムは、クラス最高のISO9001品質システムの下、ISO 7クリーンルームでパックされています。

Manufactured in ISO class 7 clean rooms
OPUS 2.5 - 80R Columns are packed in controlled classified clean rooms which meet ISO Class 7 non-viable particulate (NVP) standards. Buffer preparation occurs in a room which meets ISO Class 8 NVP standards.
Repligen develops and manufactures products for the biopharmaceutical industry under an ISO 9001 quality management system.  We focus on the timely delivery of high quality, consistent and robust products, to ensure business continuity for our customers.
生存可能粒子と生存不可能粒子について毎週監視
クロマトグラフィー樹脂をカラムに充填している間、操作中に生存可能な汚染物質を監視
OPUS® カラム生産専用のアクセス制限エリア
定期的な洗浄と消毒のスケジュール
室内圧力差を監視、空気の質を維持するために100%HEPAフィルター処理された空気を使用
関連するすべてのエリアでガウン手順が必要 
Complete regulatory support file
To support customer filings, the OPUS Columns Regulatory Support File contains the following sections:
製品仕様
製造手順
溶出物、浸出物
配送資格証明
取扱説明書
材料証明書
分析証明書の例
製品の接点材料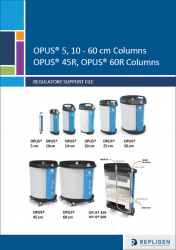 Certificate of analysis for each column configuration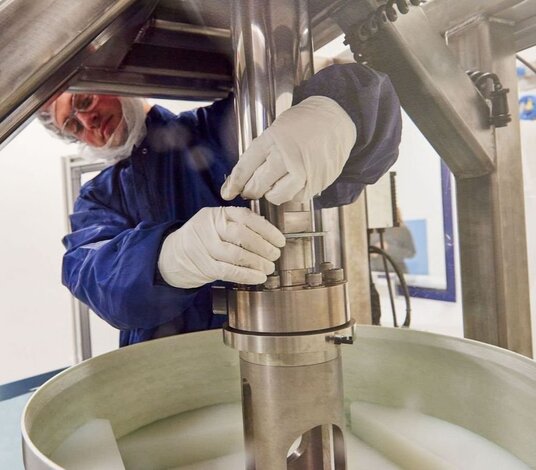 構成オプション
In order to provide the most flexibility, OPUS Pre-packed Columns are available for non-GMP and GMP applications. In general, OPUS non-GMP and GMP Columns are identical except as noted in the table.  Resin samples are not provided with OPUS non-GMP Columns. OPUS GMP Columns come with a resin sample for incoming resin identity testing at the end-user's facility. 
証明書項目
Manufacturing Pre-GMP
OPUS 2.5 - 80R
Manufacturing GMP Run Ready
OPUS 2.5 - 80R
分析証明書
♦
♦
カタログ番号
♦
♦
ロット番号
♦
♦
シリアル番号
♦
♦
実カラム直径
♦
♦
実際のベッド高
♦
♦
樹脂タイプ
♦
♦
樹脂ロット番号
♦
♦
シッピング/ストレージバッファ
♦
♦
充填日
♦
♦
非対称結果
♦
♦
理論段数(N/m)結果
♦
♦
TSO 9001コンプライアンスステートメント
♦
♦
製品の接触材料に関するコンプライアンスステートメント(動物質を含まない、EMEA 410/01、USPクラスVI)
♦
♦
樹脂分析証明書のコピー
♦
♦
充填環境
♦
♦
QCクロマトグラム
♦
♦
クロマトグラフィー樹脂制御明細書
 
♦
QC分析用樹脂サンプル
 
♦
エンドトキシン試験結果 <0.25Eu/ml(pass/fail)
 
♦
汚染微生物数試験結果 <10 CFU/ml(pass/fail)
 
♦
Manufacturing Centers of Excellence
Repligenは、ISO 9001品質管理システムに基づいて、バイオ医薬品業界向けの製品を開発・製造しています。高品質で安定した、堅牢な製品をタイムリーに提供し、お客様の事業継続性を保証することを重視しています。
Repligen manufacturing sites are located in Massachusetts, California, and New Jersey in the United States and in Sweden, France, The Netherlands,  Germany and Estonia.