Click and quote OPUS® PD Pre-packed chromatography columns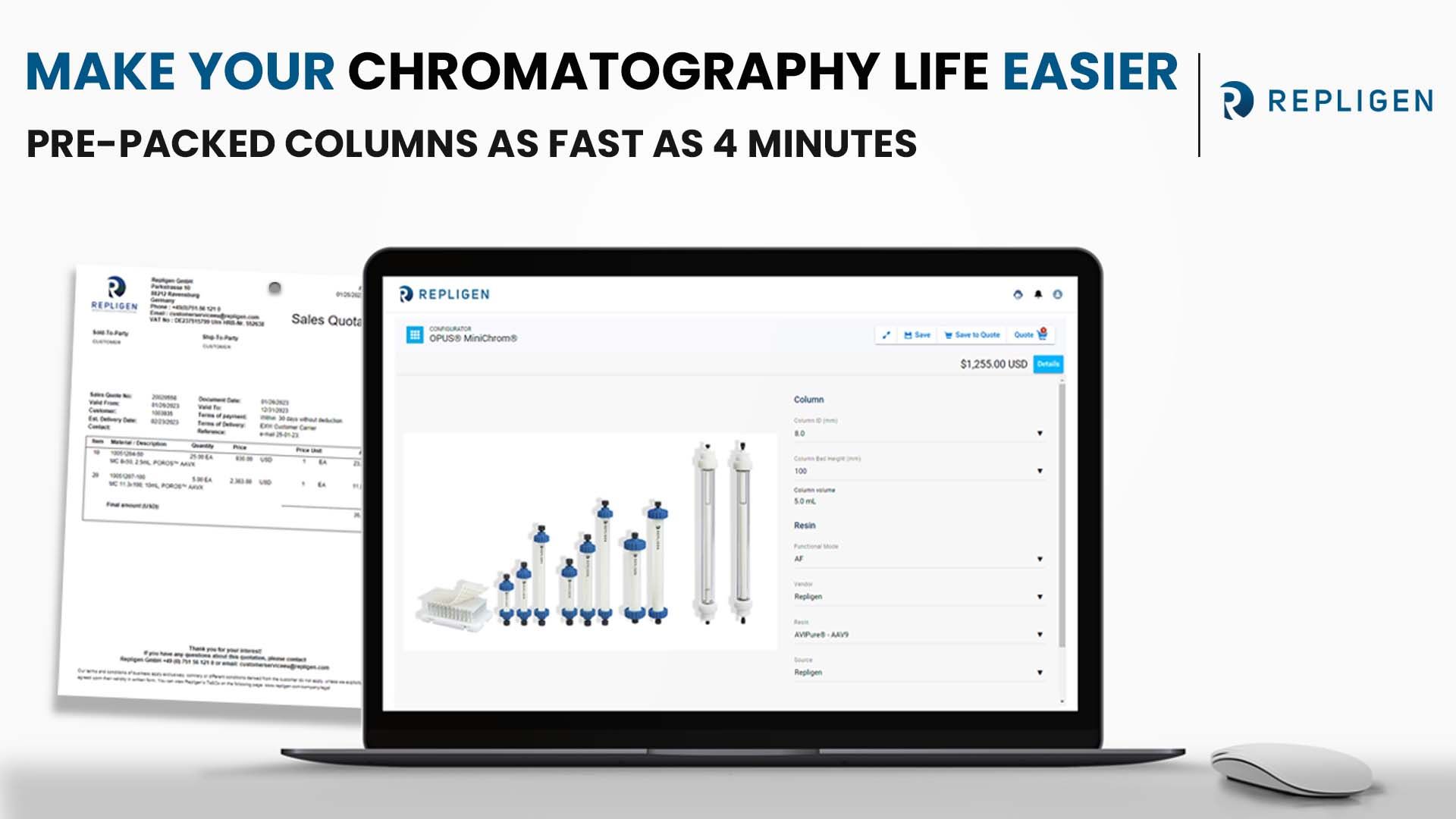 Configure and quote pre-packed columns using the latest web-based technology.
When you are planning your next set of small-scale chromatography experiments, configure the columns online and obtain a quote in minutes. Simply login, select your format, volume and resin that meets your experimental design and add to cart. A quote with all details and pricing will be emailed to you within minutes. 
Make your chromatography life easier.
  

High Performance
OPUS Valichrom Pre-packed Columns for process validation
With over 10,000 columns packed since 2007, OPUS ValiChrom Columns are uniquely suited for process validation. They are designed to match chromatographic efficiency and bed height of production scale columns with a precision of 1mm, making them ideal for parameter evaluation, process validation, and viral clearance studies.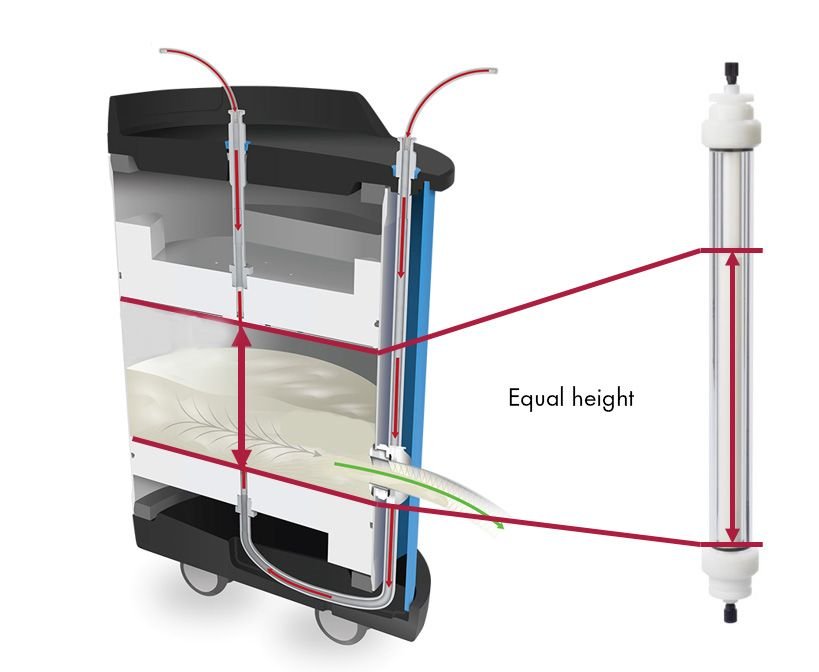 Robust scale-down process validation
機能的なスケールダウンモデリング(スケールダウン検証)
樹脂のロット間差検証
CIP法の検証
プロセスの堅牢性調査
OPUS ValiChrom Columns demonstrate reproducible packed bed performance for robust validation, as shown in the superimposition of HETP curves from 16 different units.
Because OPUS ValiChrom Columns match the bed height of the production scale column with a precision of 1mm, they are ideal for scale-down process validation.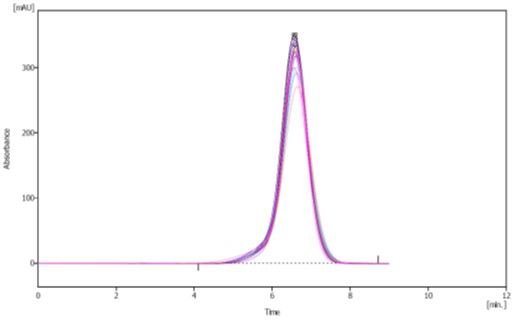 Rapid and simple AAV capture and polish DOE with new digital tools
This outline describes the advanced and fully automated purification development and optimization for an AAV vector with OPUS® PD Columns and Tecan's Fluent™ robotic workstation using online design tools.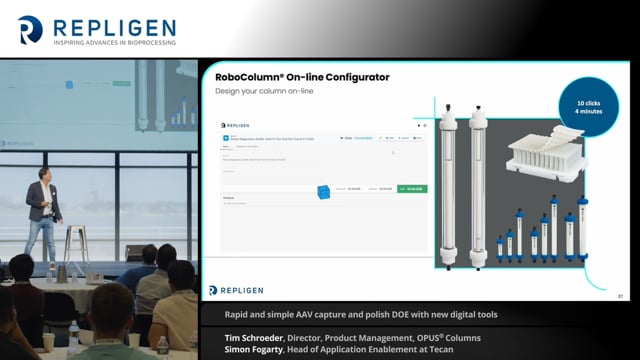 OPUS ValiChrom Pre-packed Columns for process validation
OPUS ValiChrom Columns are high performance glass pre-packed columns designed to be exact scale-down models of corresponding full-scale chromatography columns. Each column is individually flow-packed according to validated packing protocols with the precision of 1 mm bed height.
ユーザー指定の300種類以上のクロマトグラフィー樹脂がプレパックされています

5〜60 cmの任意のベッド高に充填できます

プロセスカラムの性能をシミュレートするための正しい樹脂圧縮係数でフロー充填

便利な直径のチューブで計算が簡素化します

固定のベッド高がアダプタの構造を標準化します

カバー付き生体適合性の精密ホウケイ酸ガラス柱により、すべてのベッド高にわたって樹脂を可視化します

分析証明書(CoA)には、効率(プレート/m)、非対称性、圧力流量が含まれます。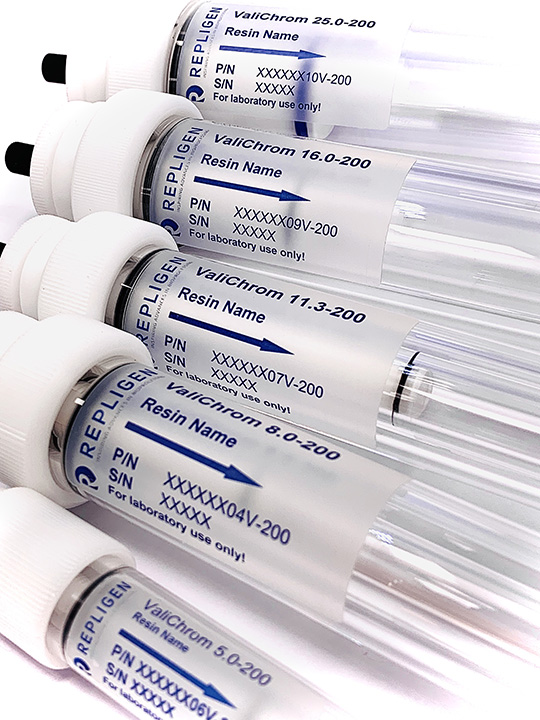 Manufacturing Centers of Excellence
Repligenは、ISO 9001品質管理システムに基づいて、バイオ医薬品業界向けの製品を開発・製造しています。高品質で安定した、堅牢な製品をタイムリーに提供し、お客様の事業継続性を保証することを重視しています。
Repligen manufacturing sites are located in Massachusetts, California, and New Jersey in the United States and in Sweden, France, The Netherlands,  Germany and Estonia.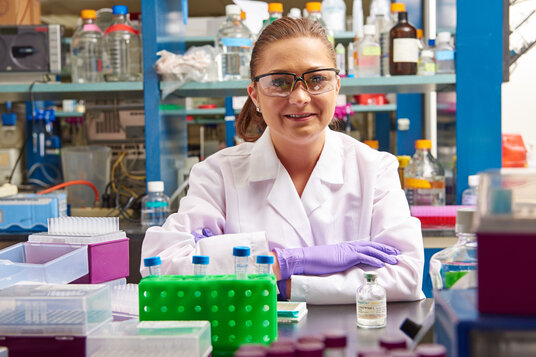 お客様第一。
サポートは、Repligenという企業の遺伝子に組み込まれています。弊社の目標は、卓越した顧客体験を提供すること、そしてRepligenの製品やサービスの適用や導入を効率よく成功に導くためにサポートすることです。
Field Application Support

カスタマーサービス

フィールドサービスエンジニア
リソース
データシート
OPUS ValiChrom Data Sheet
ユーザーガイド
OPUS® ValiChrom®
仕様
カラム内径

0.50 cm

0.66 cm

0.80 cm

1.00 cm

1.13 cm

1.60 cm

2.50 cm

充填後のベッド高さ

10 - 60 cm(カスタム可)

カラム容量のレンジ*

2~12 ml

3~20 ml

5~30 ml

8~45 ml

10~60 ml

20~120 ml

50~300 ml

中空部断面積

0.2 cm2

0.34 cm2

0.5 cm2

0.79 cm2

1.0 cm2

2.0 cm2

5.0 cm2

コネクター

1/16" 雌型(10-32)                                      

M6 雌型

化学的安定性

一般的に使用されるすべての水性バッファー、pH 1〜14、有機溶剤**。ハロゲン化有機溶剤、ヘキサンは使用しないでください

カラム保存溶媒

AIECおよびCIECカラム: エタノール20% + 150 mM塩化ナトリウム
HIC、SEC、アフィニティ、および MMCカラム: エタノール20%
CHT、CFTカラム(Bio-Rad): エタノール20% + 10 mMリン酸ナトリウム、pH6.8
ProSeP®カラム(Millipore): ベンジルアルコール1% + 0.1M 酢酸ナトリウム、pH 5.1

推奨 保管温度

AIEC、CIEC、HIC、SEC、MMC: +4°C~+30°C
アフィニティカラム: +2°C~+8°C

動作温度

+4°C~+30°C

最大動作 圧力

最大30バール

素材

アウターチューブ: PMMA、インナーチューブ: ホウケイ酸ガラス、フリット: フロイデンベルグPE/PP孔径7~12µm

*充填後のベッドの実際のカラム容量は、選択したベッド高によって決まります。ご依頼いただければ、ベッド高を10 cm未満にカスタマイズすることもできます。
**充填したクロマトグラフィー樹脂の化学的安定性も考慮する必要があります。詳細については、メーカーの樹脂仕様を参照してください。