Click and quote OPUS® PD Pre-packed chromatography columns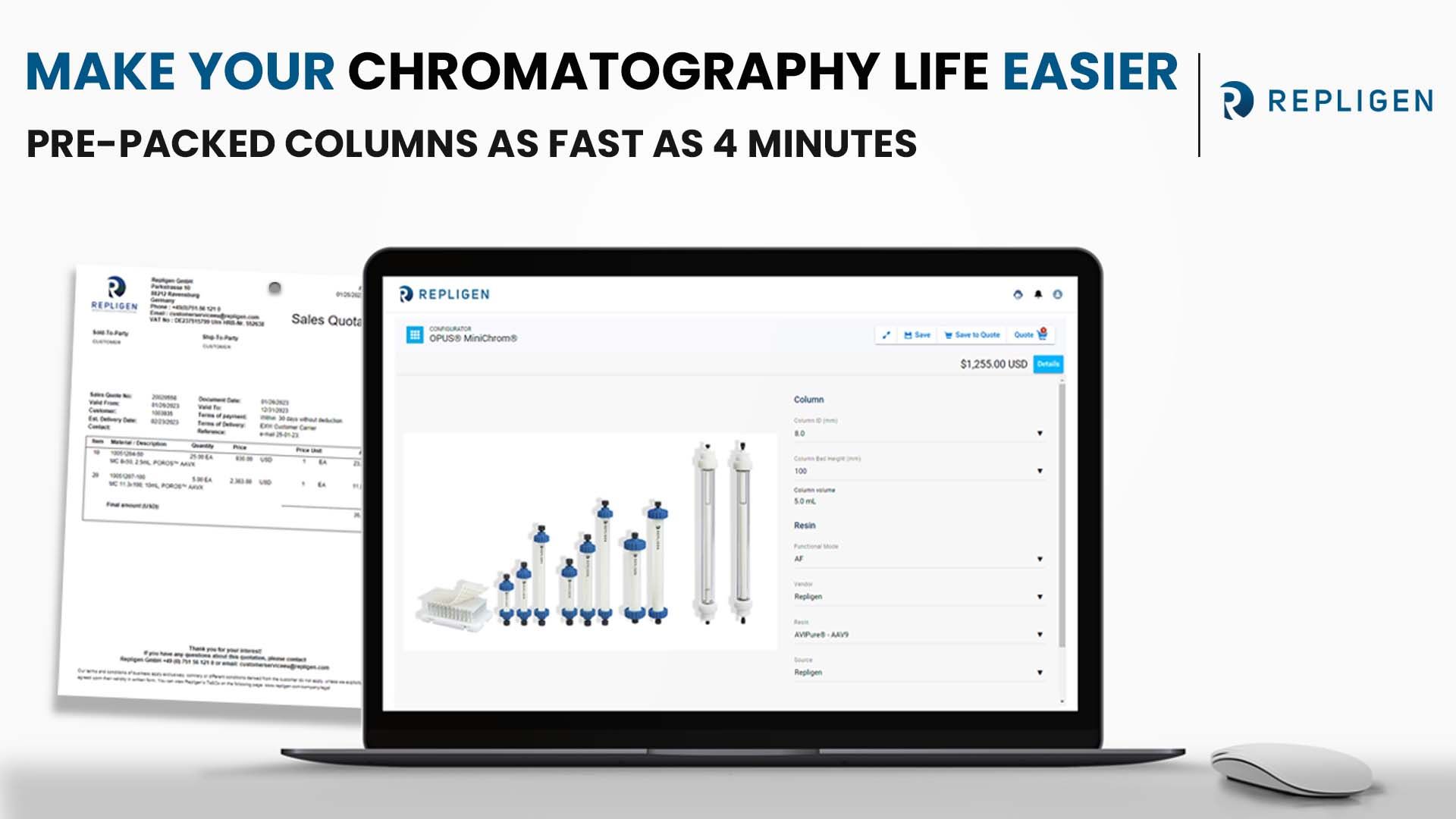 Configure and quote pre-packed columns using the latest web-based technology.
When you are planning your next set of small-scale chromatography experiments, configure the columns online and obtain a quote in minutes. Simply login, select your format, volume and resin that meets your experimental design and add to cart. A quote with all details and pricing will be emailed to you within minutes. 
Make your chromatography life easier.
 FLEXIBILITY
Flexibility with pre-packed convenience
ユーザー指定の300種類以上のクロマトグラフィー樹脂がプレパックされています
Consistently packed with correct axial compression
液体処理ワークステーションの分注速度によって制御される直線流量制御
一定の滞留時間によるスケールアップ、スケールダウンを実証済み
一度に多数のサンプル、マルチプレックス対応
利用可能なフォーマット
内径

ベッド高さ

カラム容量

cm
mm
cm
mm
ml
µL
0.5
5.0
0.25
2.5
0.05
50
0.5
5.0
0.50
5.0
0.10
100
0.5
5.0
1.00
10.0
0.20
200
0.5
5.0
2.25
22.5
0.45
450
0.5
5.0
2.50
25.0
0.50
500
0.5
5.0
3.00
30.0
0.60
600

Minimum order is one row of 8 OPUS  RoboColumn pre-packed columns  with the same resin and column dimension.
 

Automation
Automated parallel chromatography
Shorten process development time significantly by performing parallel operation of OPUS RoboColumn pre-packed columns in robotic liquid handling workstations, implementing chromatography Design of Experiment (DOE) and QbD (Quality by Design).
Designed for robotic fluid handlers 
Compatible with both Tecan and PerkinElmer platforms, the preferred supplier for OPUS RoboColumn automation is the Tecan Freedom EVO® robotic workstation.
96ウェルプレートへの同時自動ステップ勾配溶離

統合されたプレートリーダーによるその後の分析

柔軟なソフトウェアウィザード 
The combination of OPUS RoboColumn and the Tecan Freedom EVO® robotic workstation delivers a complete integrated platform for state-of-the-art small-scale protein purification.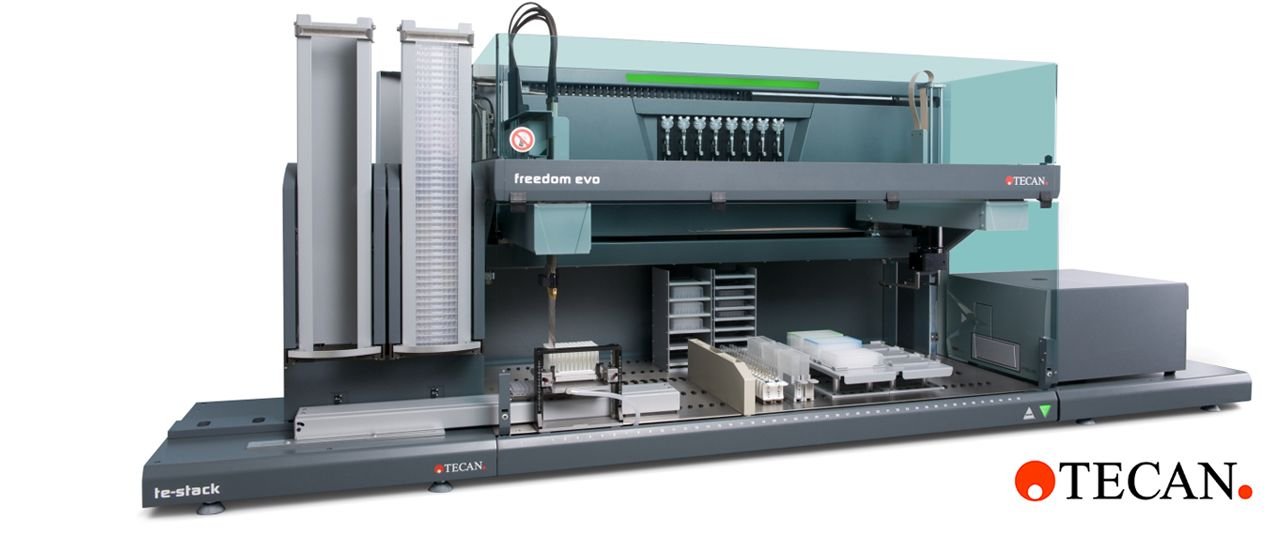 Rapid and simple AAV capture and polish DOE with new digital tools
This outline describes the advanced and fully automated purification development and optimization for an AAV vector with OPUS® RoboColumns® and Tecan's Fluent™ robotic workstation.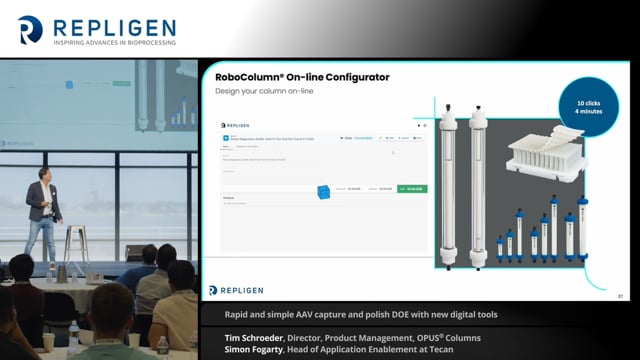 High Performance
プロセス開発
Development of a purification process for a specific molecule requires evaluation of the resin as well as operation conditions for each chromatography step. Using OPUS RoboColumn on a Tecan Freedom EVO® generated up to 96 pseudo-chromatograms (1536 data-points) in 1.5 days when comparing 12 CIEX resins at 8 different pH 3.7-7.0.
16分でそれぞれ16のフラクションと並行して8つのクロマトグラフィー分離
10分で96の個別バッファー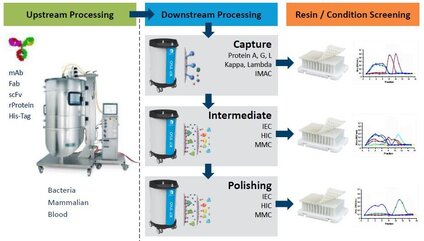 サンプル調製/プロセス分析技術(PAT)
インプロセス発酵モニタリング
タンパク質特性評価
創薬
The development and manufacture of a biotherapeutic requires significant analytical characterization of in-process intermediates.  Non-purified samples require sample preparation before analysis can be executed. OPUS RoboColumn enables one-step purification of multiple samples in parallel.
Using the OPUS RoboColumn on a Tecan Freedom EVO® generates 2mg to 24mg API (Active Pharmaceutical Ingredient) per RoboColumn® run.
OPUS RoboColumn Pre-packed Chromatography Colums
Used in the industry since 2007, OPUS RoboColumn pre-packed columns are designed to work with robotic fluid handlers for fully automated parallel chromatography.
Up to 96 RoboColumn pre-packed columns (8 column types in parallel) can be individually arranged on a 96-well array plate according to application requirements. Resin is contained to form a bed between two filter frits and validated with consideration to resin compression requirements, to ensure high efficiency, good asymmetry and robust chromatography performance.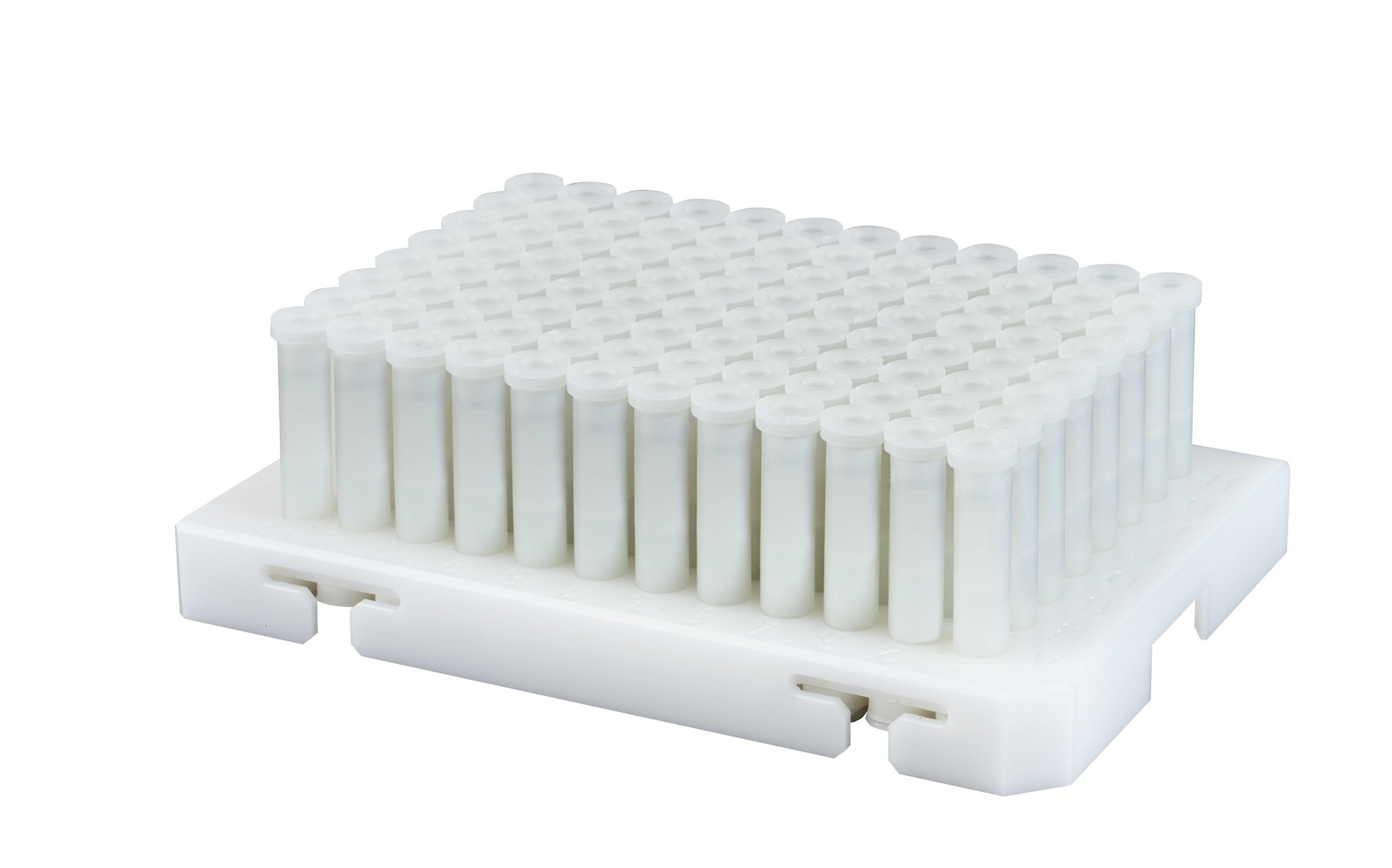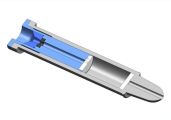 OPUS® RoboColumn®
internal design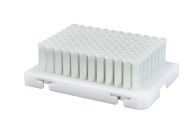 OPUS® RoboColumn®
96-well plate

OPUS® RoboColumn®
5 mm ID x 30 mm H;V = 600 µL

OPUS® RoboColumn®
5 mm ID x 10 mm H;V = 200 µL

Manufacturing Centers of Excellence
Repligenは、ISO 9001品質管理システムに基づいて、バイオ医薬品業界向けの製品を開発・製造しています。高品質で安定した、堅牢な製品をタイムリーに提供し、お客様の事業継続性を保証することを重視しています。
Repligen manufacturing sites are located in Massachusetts, California, and New Jersey in the United States and in Sweden, France, The Netherlands,  Germany and Estonia.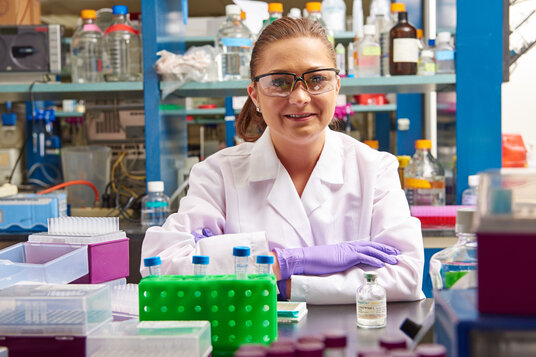 お客様第一。
サポートは、Repligenという企業の遺伝子に組み込まれています。弊社の目標は、卓越した顧客体験を提供すること、そしてRepligenの製品やサービスの適用や導入を効率よく成功に導くためにサポートすることです。
Field Application Support

カスタマーサービス

フィールドサービスエンジニア
仕様
プレートのサイズ

128.3 L x 86.0W x 14.0 mm H

プレートの素材

ポリオキシメチレン共重合体

穴の数

96

カラム容量

50 µL

100 µL

200 µL

450 µL

500 µL

600 µL

ベッド高さ

2.5 mm

5.0 mm

10.0 mm

22.5 mm

25.0 mm

30.0 mm

カラム内 直径

5 mm

カラムの素材

ポリプロピレン

化学的安定性

一般的に使用されるすべての水性バッファー、pH 1〜14、有機溶剤**。ハロゲン化有機溶剤、ヘキサンは使用しないでください

カラム保存溶媒

AIECおよびCIECカラム: エタノール20% + 150 mM塩化ナトリウム
HIC、SEC、アフィニティ、および MMCカラム: エタノール20%
CHT、CFTカラム(Bio-Rad): エタノール20% + 10 mMリン酸ナトリウム、pH6.8
ProSeP®カラム(Millipore): ベンジルアルコール1% + 0.1M 酢酸ナトリウム、pH 5.1

推奨 保管温度

AIEC、CIEC、HIC、SEC、MMC: +4°C~+30°C
アフィニティカラム: +2°C~+8°C

動作温度

+4°C~+30°C

最大動作 圧力

最大8.0bar

流速

16~1000 cm/h**

ラベリング

各カラム本体にレーザーエッチング。ラベルの内容:

*注:充填したクロマトグラフィー樹脂の化学的安定性も考慮する必要があります。詳細については、メーカーの樹脂仕様を参照してください。
**Te‑Chrom™ WizardのLiquid Transferメニューでは、分注ごと、クロマトグラフィーのステップごとに流量を設定できます(5.1.1.6Liquid Transfer、Te‑Chrom™ Wizard Software Manual、396076、en、V1.0).