Chromatography Redesigned
Repligenは、現代のクロマトグラフィーの手法に革命をもたらしています。その結果、最も複雑なモダリティでも、前例のない回収率と運用効率を実現しています。
画像のハイライトをクリックすると、設計を新たにしたクロマトグラフィーの主要要素が表示されます。

 ULTIMATE FLEXIBILITY
Largest scale, broadest range
In response to the need to scale up chromatography processes, Repligen offers the largest pre-packed columns for the bioprocess industry. OPUS® 45R,  60R and 80R Columns are the first pre-packed columns designed to meet the chromatography requirements of larger 1000L and 2000L single-use bioreactors.
ベッドの高さや樹脂、用途に合わせて簡単に設定可能

Seamless scale-up from smaller OPUS® Columns

GMP使用向けの完全なドキュメントパッケージ

従来のカラム技術と比較して、時間とコストを大幅に削減

Consistent materials of construction

Class VI, EMA 410/01 compliant materials

GMP and pre-GMP quality packages

ISO documentation (CoA, RSF)

Select from > 150 resins

Individual column release testing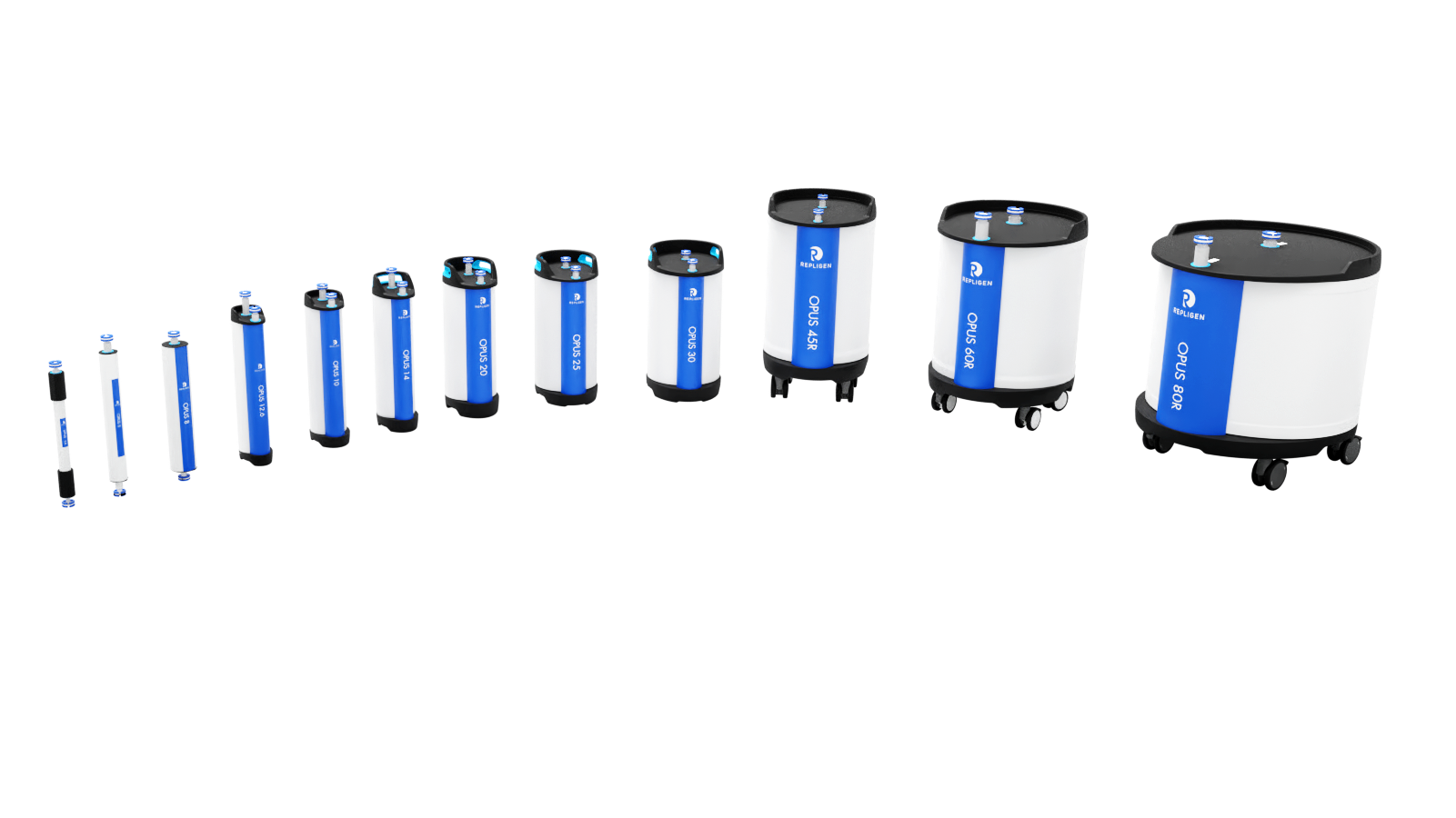 Ultimate Flexibility
Packed with user-specified resins
Repligen packs > 250 resins from 60 resin families >15 resin vendors. The most frequently packed resins are 30-120μm in particle size and based on matrices of agarose, methacrylate, cellulose, and polystyrene material. Resins may be customer-supplied or Repligen-supplied. A convenient resin pick-up service is available upon approval.
 
 
 

アフィニティ

Repligen CaptivA® and CaptivA® HF
Repligen NGL COVID-19 Spike Protein AF Matrix
Repligen AVIPure® AAV2, AAV8 and AAV9
Purolite Praesto® AP/AP+, Jetted A50/A50+
Cytiva MabSelect™ Family
Cytiva AVB Sepharose™ HP
Cytiva Capto™ PlasmidSelect
Thermo POROS® CaptureSelect™ AAV/AF types
Thermo POROS® Heparin
Tosho TOYOPEARL® AF-rProtein A HC-650F

IEX/混合モード樹脂

JSR Amsphere™ A3
KANEKA KanCap™ A
Various Vendors IMAC/Chelating/Nickel
Purolite Praesto® (IEX)
Cytiva Capto™ ImpRes (IEX, HIC, MMC)
Cytiva Capto™ (IEX, HIC, MMC)
Cytiva Capto™ Core 400 and 700
Cytiva Capto™ S ImpAct
Cytiva Sepharose™ FF (IEX, HIC, MMC)
Cytiva Sepharose™ HP (IEX, HIC, MMC)
Cytiva SOURCE 30 (Q and S)
Cytiva Superdex (75 and 200)
Cytiva  Sephadex G25

ABT Rapid Run Agarose Bead (IEX)
Thermo POROS® 50 um (IEX, HIC)
Thermo POROS® 20 um (IEX)
Tosoh TOYOPEARL® (IEX, HIC, MMC)
Millipore Fractogel® (IEX)
Millipore Eshmuno® (IEX)
Sartorius HyperCel™ (PPA, HEA, CMM, MEP)
BioRad Nuvia™ (IEX, MMC)
BioRad Nuvia™ HP (IEX)
BioRad UNOsphere™ (IEX)
BioRad CHT™ Types: I & II, 40um, 80um, (≤60cm IDs)
Access CHT™ Resin pre-packed in OPUS Columns
Ceramic hydroxyapatite (CHT™) resin offers unique selectivity during the purification of mAbs and recombinant proteins. OPUS Columns can now be pre-packed with CHT™ resin and shipped world wide with excellent performance.
内径5 - 45cm
ベッド高さ 5 - 30cm
View the full performance data
CHT™はBio-Radラボラトリーズ株式会社の登録商標です。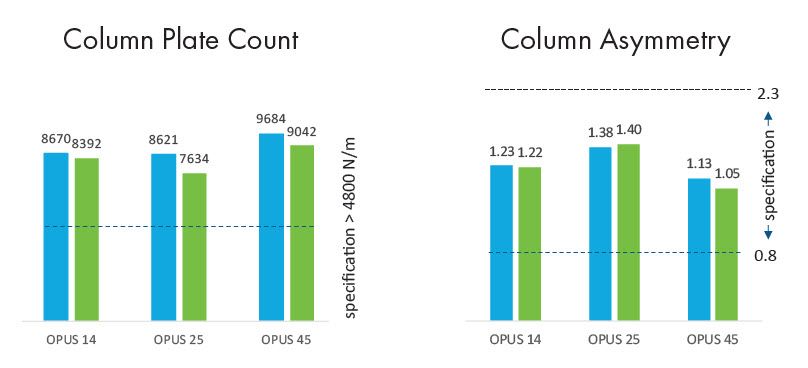 性能は輸送後でも保たれます
出荷後の平均プレート数および非対称性の差異は、出荷前のものと比較して、それぞれ8%、3%以内でした。絶対値は仕様に記載の範囲内に収まっています。
 
Ultimate Flexibility
Innovative resin recovery port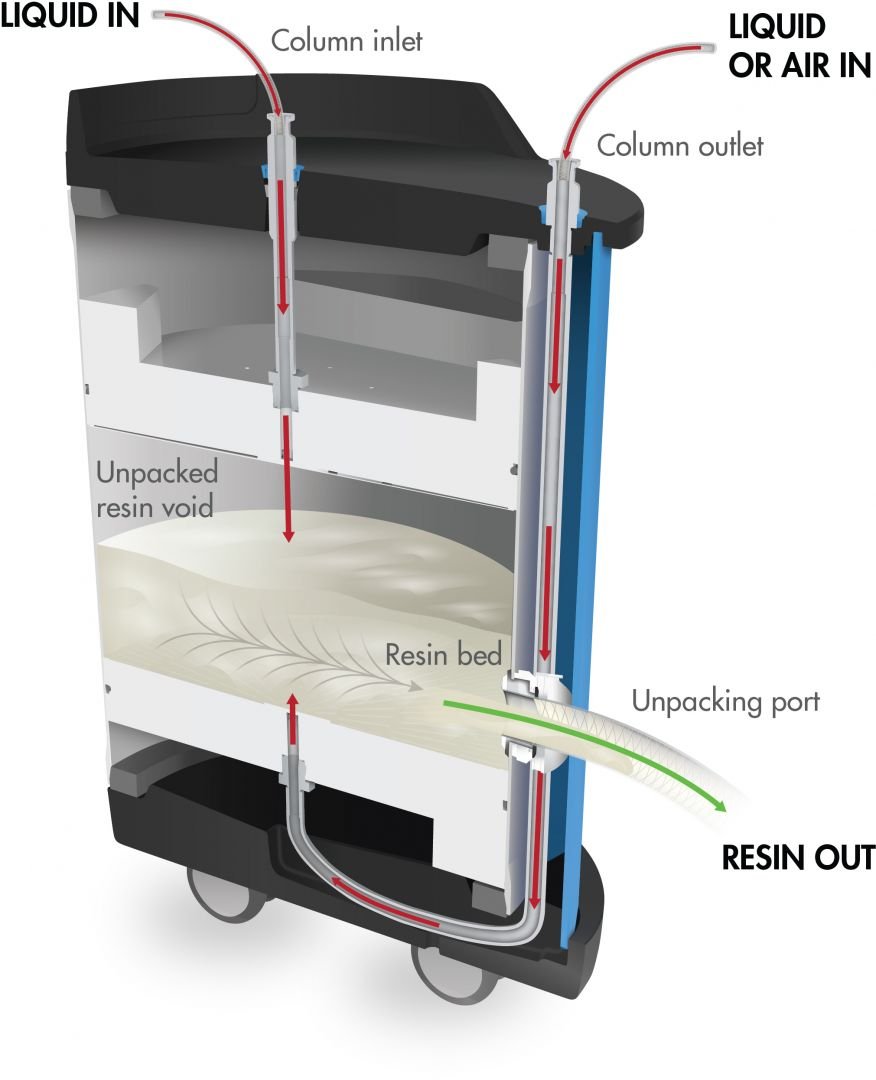 プレパックからアンパッキングまで
With an innovative side port that allows for easy resin unpacking, OPUS 45R, 60R, and 80R Columns provide the ultimate flexibility in pre-packed column technology.
Without compromising  chromatographic performance or cleanability, the new feature helps mitigate the risk of implementing pre-packed columns in GMP settings, and allows for re-use of the unpacked resin in other columns.
In the event of a deviation, and if the OPUS pre-packed column performance cannot be recovered, the column can be unpacked and the resin can be repacked into a traditional, self-packed column. 
After the intended usage of the OPUS pre-packed column, the column can be unpacked and resin transferred to a development or pilot setting for additional use.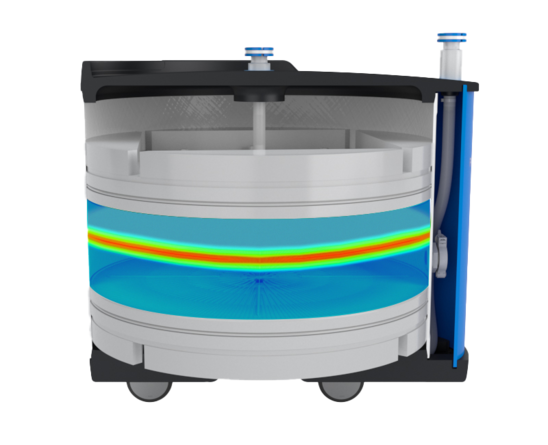 OPUS®フローディストリビューターは、一様な流量分布を維持するように設計されています。この設計では、放射状の流れ場やアンチジェットファンネルなどの業界で認められた技術が活用されています。 
OPUS®の開発中カラムでは、カラム性能の関数としての分散をモデル化し、フローディストリビューターの重要なパラメータを確認しました。OPUS®アプリケーションラボにて計算流体力学モデリングとアプリケーションケーススタディを行い、最終的な設計の認定を行いました。  
医療グレードのポリプロピレンホモポリマー製で、OPUS®カラムのすべての製品との接触面はEMA 410/01(または動物質不使用)でクラスVIに適合しています。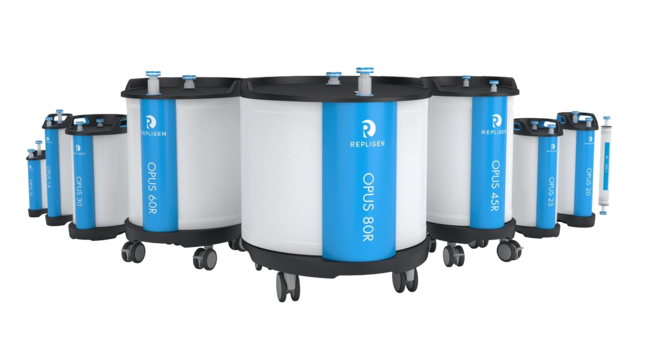 | | |
| --- | --- |
| 構成部品 | 素材 |
| 2.5 - 30 column tube | ポリプロピレン |
| 45R - 80Rカラムチューブ | 70% w/w Eガラス/PP工学的複合構造 |
| フローディストリビューター | ポリプロピレン |
| インレット/アウトレット | ポリプロピレン |
| 充填層サポートスクリーン | ポリプロピレン |
| Oリング | プラチナ硬化医療グレードシリコン |
| 戻り管路 | 強力なポリエステル繊維強化を施したプラチナ硬化医療グレードシリコン |
OPUS®カラムは、モノクローナル抗体、組換えタンパク質、ワクチンなどの一般的なダウンストリームプロセスキャンペーンで用いられる洗浄および滅菌プロトコルに対応しています。
リン酸還元の比色測定を用いたOPUS® 20カラムは6 FFで充填され、2 CVで残留リン酸を確実に洗浄できます。  
OPUS®カラムには大きなデッドスペースがありません
OPUS®は洗浄しやすい設計になっています
   HIGH PERFORMANCE
Impact on process economics
Substantial savings in manufacturing costs and labor are realized because OPUS Columns offer the benefits that come with pre-packed technology:
先行資本支出不要
CIP手順とクロスコンタミネーションの削減
キャンペーンのターンアラウンド時間の短縮
優れた運用性(労働要件の削減)
In this example, over 65% cost savings and up to 80% labor savings were achieved when using OPUS Columns compared to self-packed columns.*
*Assumptions: OPUS 60R Pre-packed Column versus purchase of new 60 cm diameter automated self-pack equipment (columns are dedicated to a specific molecule). Data presented are estimates and subject to change.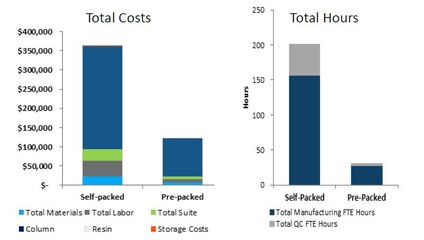 OPUS® 2.5 - 80R Pre-packed GMP-ready Columns
OPUS® Pre-packed Chromatography Columns provide linear scale-up from process validation to commercial and GMP manufacturing. Select from the broadest portfolio of pre-packed GMP-ready column sizes, including large scale OPUS® 45R, 60R, and 80R Columns. Pre-packed columns enhance facility efficiency overall by converting column packing resources into productive chromatography and accelerating campaign turnaround time.
Innovation in Purification
Configure bed height to nearest mm
Pack nearly any resin from nearly any supplier
Customize plat count, asymmetry and test method
Unpack resin using recovery port featured on OPUS® 45R, 60R and 80R columns
ISOクラス7のクリーンルームでパッキング
詳細レギュラトリーサポートファイル
各カラム構成の分析証明書
 

Click on the links to explore different features.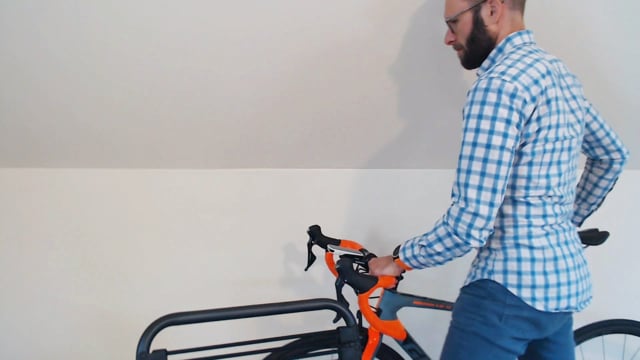 The OPUS® time machine
OPUS® Columns pack your choice of resin and the most precious element of all, time, into a self-packed ready-to-use chromatography column at almost any size and for almost every application. Skip months of hardware validation, execute more runs--and still leave work early to enjoy a bike ride. Don't worry, we won't tell your boss.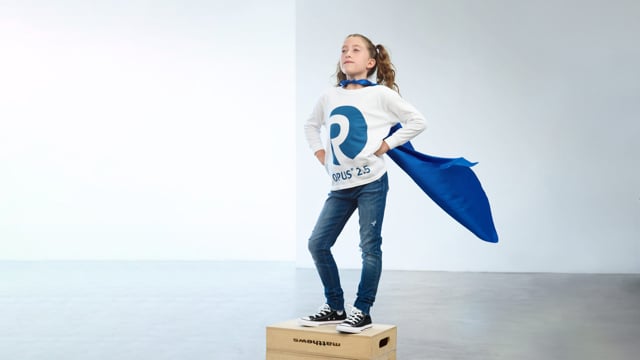 Small but mighty
Reallocate column packing time and resources toward productive GMP-level chromatography, even at small-scale. The family of OPUS® Pre-packed Columns now includes the small but mighty OPUS® 2.5. Scale GMP purification effortlessly from 2.5 cm to 80 cm ID.
Manufacturing Centers of Excellence
Repligenは、ISO 9001品質管理システムに基づいて、バイオ医薬品業界向けの製品を開発・製造しています。高品質で安定した、堅牢な製品をタイムリーに提供し、お客様の事業継続性を保証することを重視しています。
Repligen manufacturing sites are located in Massachusetts, California, and New Jersey in the United States and in Sweden, France, The Netherlands,  Germany and Estonia.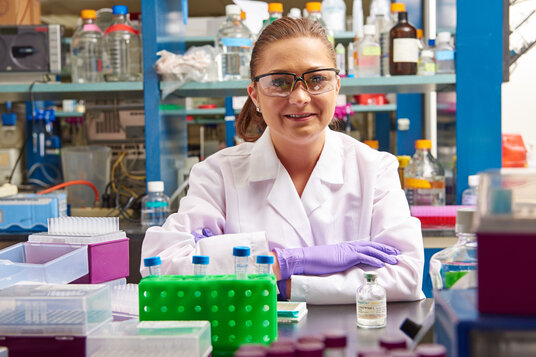 お客様第一。
サポートは、Repligenという企業の遺伝子に組み込まれています。弊社の目標は、卓越した顧客体験を提供すること、そしてRepligenの製品やサービスの適用や導入を効率よく成功に導くためにサポートすることです。
Field Application Support

カスタマーサービス

フィールドサービスエンジニア