KF Comm 2ソフトウェア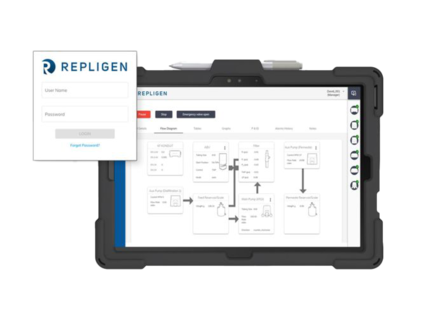 Proprietary, menu-driven software is optimized for use with KrosFlo® KR2i, KrosFlo® KMPi and KrosFlo® FS Tangential Flow Filtration Systems.

OPTIMIZED
Menu-driven Software for Optimized TFF
KF Comm 2 Software, backward compatible with legacy KrosFlo® KR2i and KrosFlo® KMPi Systems, is conveniently installed on any computer using the Windows Operating System. The software is compatible with Chrome, Mozilla, Firefox and Microsoft Explorer browsers and is always current with automatic software and firmware updates. 
KrosFlo® TFFシステムに最適化された独自のソフトウェア

21 CFR Part 11オプションでGMPプロセスに対応

直感的なワークフローを実現する13種類の操作モード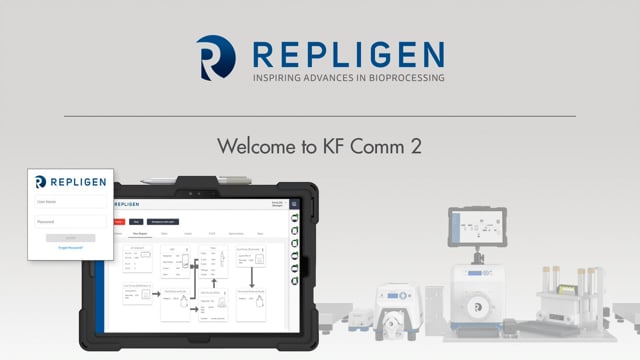 21 CFR Part 11オプション
Optional GMP Validation
KF Comm 2ソフトウェアは、オプションの21 CFR Part 11に準拠したGMPプロセスの検証が可能です。
GMPプロセスに関してシステムの検証を必要とするお客様が利用できます

管理コンソールを介したユーザー固有のアクセス制御を搭載 

ユーザーが実験を行った時やアーカイブデータにアクセスした時が記録される電子署名付きのログインモジュール

監査証跡/監査役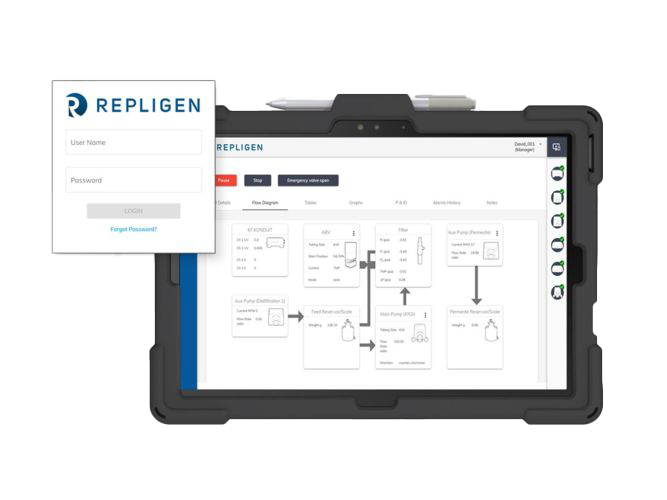 KF Comm 2ソフトウェア
プロセスデータを自動的に収集
ろ過プロセスのリアルタイム概要を提供
Microsoft Surface Pro 4
リアルタイムの操作パラメータ
時間
供給圧力
保持液圧力
透過圧力
供給流量
透析ろ過流量
透過流量 
供給スケール重量
透過スケール重量
ポンプRPM
ノート(アラーム、プロセスステータス、機能)
ポンプモード
処理のパラメータ
膜間差圧(TMP)
圧力降下(ΔP)
保持型流量
透過流束
容量スループット(VT)
濃縮係数
せん断
透析ろ過量
処理時間
UV、導電率、温度(Konduit)
13 Modes of Operation
| | | |
| --- | --- | --- |
| | プロセス制御モード | 主要用途 |
| M | マニュアルモード | ポンプや補助機器の手動操作 |
| CONT | 連続モード | オペレーターインターフェースの操作手順によるポンプおよび補助機器の手動操作(濃縮および透析ろ過) |
| C | 濃縮モード | 処理溶液の単純濃縮。中空糸フィルターの自動洗浄 |
| C/D | 濃縮/透析ろ過 | 処理溶液の濃縮 > 透析を連続して行う |
| C/D/C | 濃縮/透析ろ過/濃縮 | 処理溶液の2回目の濃縮の前に、1つのバッファーで処理溶液を透析ろ過します |
| C/D/D/C | 濃縮/透析ろ過/透析ろ過/濃縮 | 処理溶液の2回目の濃縮の前に、2つの異なるバッファーで、連続的に処理溶液を透析ろ過します |
| CFC | 一定の供給濃縮 | 供給重量を一定に保ちながら、溶液を濃縮 |
| CF/D/C | Constant Feed Concentration / Diafiltration / Concentration | 供給重量を一定に保ちながら、溶液を濃縮し、その後、透析ろ過の際に緩衝液で溶液を洗浄し、続いて溶液をさらに濃縮 |
| V | *NEW* Control mode (Vacuum Mode) | 補助ポンプを使用せずに、定量供給モードや透析ろ過モードを使用できます。溶液がフィルターから浸透してくると、リザーバー内に生じた減圧によって溶液がフィードリザーバーに引き込まれます |
| F | *NEW* Flushing Mode | 洗浄モード |
| NWP | *NEW* Normalized Water Permeability Mode | 洗浄後のフィルター清浄度の判定、および新しいモジュールの水流束の判定に使用 |
| C | *NEW* Cleaning Mode | 洗浄モード |
| FE | *NEW* Flux Excursion Mode | 流速の測定 |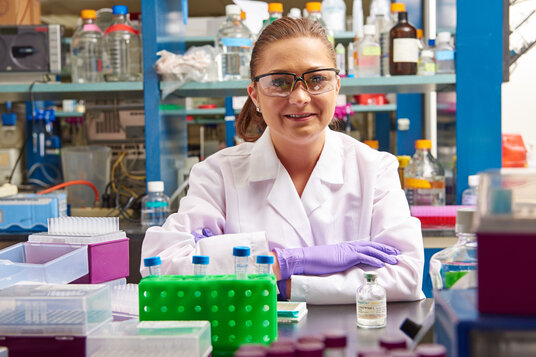 お客様第一。
サポートは、Repligenという企業の遺伝子に組み込まれています。弊社の目標は、卓越した顧客体験を提供すること、そしてRepligenの製品やサービスの適用や導入を効率よく成功に導くためにサポートすることです。
Field Application Support

カスタマーサービス

フィールドサービスエンジニア